Our goal is to contribute to that more get a chance to paddle kayak, paddleboard and explore our magnificent archipelago in Bohuslän, West Sweden, both in Grebbestad, Fjällbacka and Koster. Our goal is to provide a sustainable and rich experience. That our guests get to know our history, our values and local specialities and most of all our idyllic archipelago, hence our company name Skärgårdsidyllen that means the idyllic archipelago.
Rental prices
Kayak model
4 hour*
1 day
2 days
3 days
4 days
5 days
Kayak PE
300 sek
400 sek
750 sek
1100 sek
1450 sek
1800 sek
Kayak glasfibre
400 sek
500 sek
950 sek
1400 sek
1850 sek
2300 sek
Double kayak PE
450 sek
550 sek
1050 sek
1550 sek
2050 sek
2500 sek
Double kayak glasfibre
550 sek
650 sek
1250 sek
1850 sek
2450 sek
3000 sek
* 4 hours (between 9-13 or 13-17 or 17-21) Day 9-17/18-17

Welcome to kayak in Grebbestad, Fjällbacka and Koster


We have more inspirational movies here!
Popular kayak tours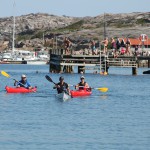 Kayak Intro Tour – Grebbestad
This tour is perfect for beginners and everyone that are interested to learn the basics of kayaking. You do not become an expert after this tour, but you will learn the basics and gain confidence. No previous experience required. Read more about our Kayak Intro Tour.
Guided kayak tour Koster & Fjällbacka
This tour takes you on an excursion in Kosterhavets Marine National Park. Paddling together with your guide you will explore the nationalpark, gain an insight of the marine life and the history. Read more about the national park paddling.
Have you dreamed about exploring the Swedish coastline in a kayak and experience the nature this is the tour for you. Together with an experienced guide we take you out in one of the most beautiful archipelagos in the world according to us and CNN and many more, read more about the guided archipelago tour
Winter kayaking – Grebbestad
Explore and enjoy the archipelago when the busy summer season has come to an end and the peace and tranquility has returned. We offer safe and fun guided winter kayaking and winter SUP tours with dry suits and experienced guides.