Rent a boat
We offer a safe, traditional west coast boat (Smögen 45) with a 6 hp engine and life jackets.
The boat is perfect for the small family/company that would like to do a daytrip fishing, bathing, island hopping or just explore our beautiful archipilago. We assist you with recomondations and suggestions of nice islands and good fishing spots.
Boat
1 day
2 days
3 days
4 days
5 days
Smögen 45 – 6hk
1500 sek
2750 sek
4000 sek
5000 sek
6000 sek
* 4 hours (between 9-13 or 13-17 or 17-21) Day 9-17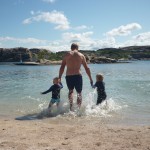 Boat trip
We also arrange boat tours so that you can explore our beautiful archipelago. We arrange lobster/crab fishing and sightseeing. We also help you explore an island i.e we leave/pick you up on an island that you can explore in private and enjoy your picnique. Please contat us and we will tell you more.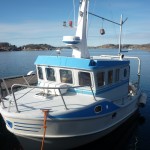 Boat charter
If you would like to rent boat with skipper this can be arranged. We have a variety of boats, small and big with and without sail depending you your needs. Please contact us and tell us your needs and we will help you with a solution.
Price 2000 sek per hour