Yoga
Skärgårdsidyllen offers yoga on land, the ocean and islands
We offer yoga for the curious beginner, the exerciser, the epicuriean and everyone who wants to experience yoga in our beautiful surroundings with the closeness to the ocean. The classes usually takes place  in Grönemad, Grebbestad and is led by trained yoga teachers. With us you get a nice and safe  yoga experience in a beautiful environment. We also offer Kayoga, SUPYOGA and SUPYOGA teacher training.
As soon as the weather allows, we go outdoors. At indoor temperatures we are in the Skärgårdsidyllen's Ocean View Studio on the mountain top in Grönemad, overlooking the nearest archipelago with the horizon in the distance.
 You can join a scheduled yoga class, book a private or make group reservation.

Summer yoga by the jetty of Kullgren in Grönemad
Start the day by the ocean with an outdoor yoga class, where we soften and get a lovely start of the day! Suitable for both you who want to try yoga and you who has practiced for a while. Our yoga teacher Ingela Holgersson is a Yoga Alliance certified yoga teacher with specialization in Hatha, Yin and SUPyoga. Phone number: +46 708 12 20 29. Bring your yoga mat / sleeping mat / towel or similar. Don't forget your swimwear, we are right by the ocean. At rain we will call it off.
Time: Tuesdays and Thursdays between 8:30 – 9:30 AM from Tuesday 25 June to Thursday 15 August (changes will be published here
Price: 150 sek / 60 min yoga
Book your spot: info@skargardsidyllen.se or take the chance with a drop-in, if you're out at the last minute. We take credit-card and cash.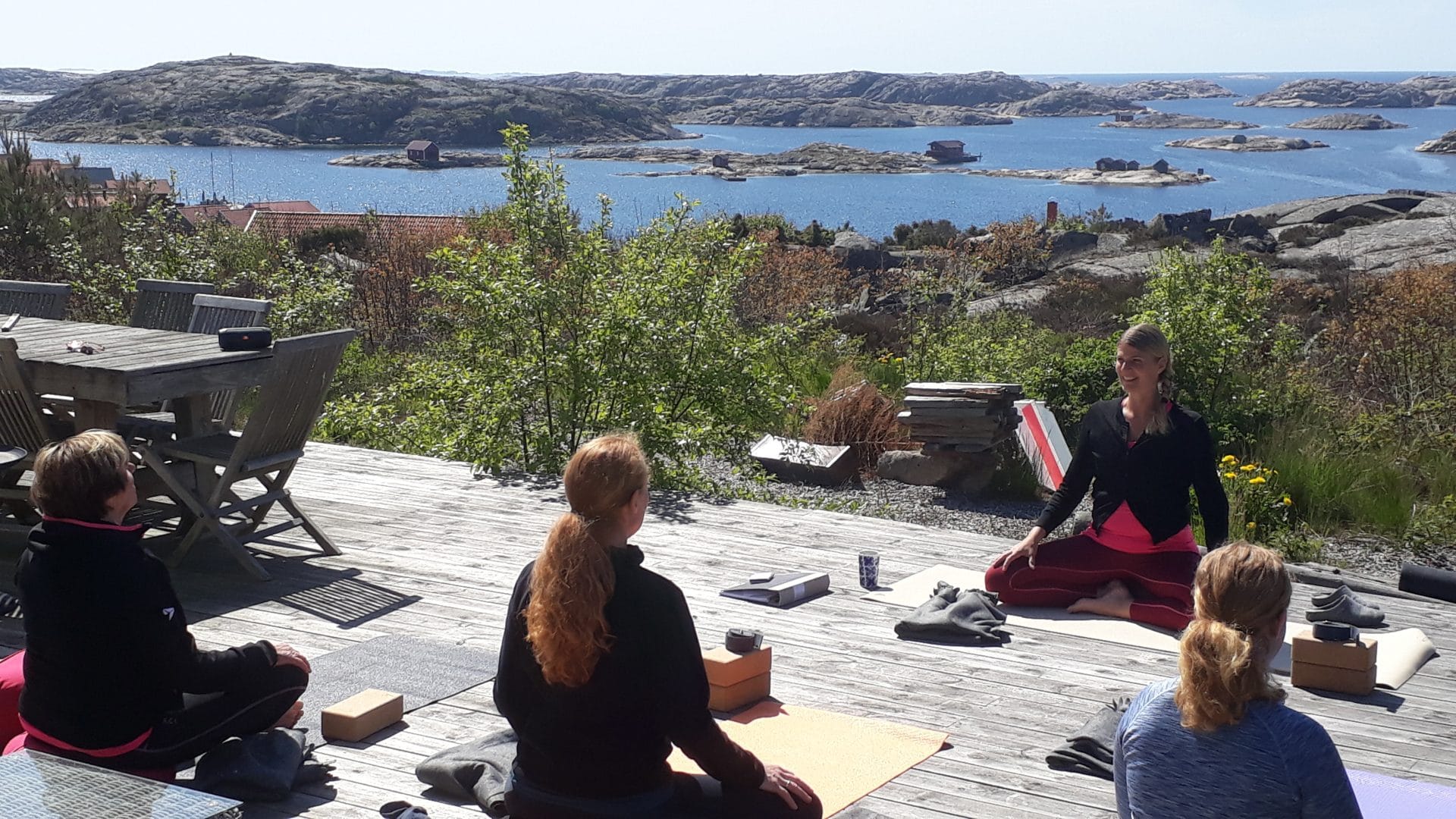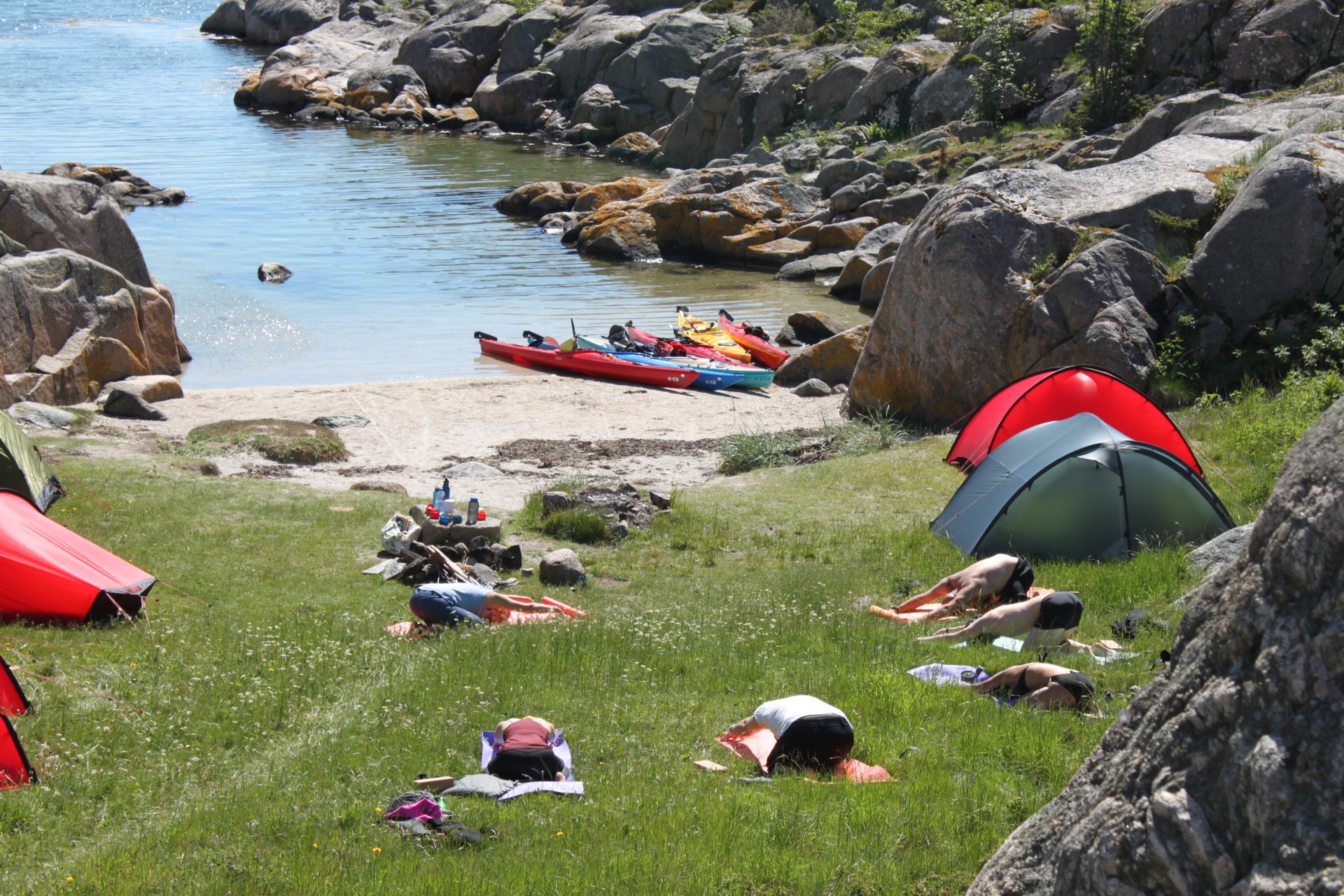 Kayak + yoga = Kayoga
Kayoga

Try the combination of kayaking and yoga = kayoga, an unforgettable experience.
We paddle to one of our fantastic islands in the neighborhood and do a yoga class with the intention to make ourselfs more attentive to our breath, mind and bodies. We stretch into specially adapted yoga exercises for those who enjoy spending time in the kayak. Our yoga teacher Ingela, who has many years of kayaking experience, is certified kayak guide and yoga teacher and leads us carefully through the class which makes us even more attentive to the amazing nature. Read more about Kayoga here.
Time: The trip takes 3 or 4 hours including a short kayak instruction on land.
Price: 950 – 1250 sek / person incl. kayak, life jacket, yoga mat and props.
Book: Book your spot/Booking inquire
Minimum 4 participants required for a guided tour.
SUP Paddle Intro + SUP Yoga
Why choose when to have it all! Join us on an unforgettable Stand Up Paddelboard (SUP) experience, where you both get the basics to paddle SUP and then finish with an one hour SUP YOGA class with our well trained and certifed instructors.
Time: The trip takes 3 hours including a short paddle instruction on land.
Price: 950 sek / person incl. fully equipped SUP, life jacket and coffee break.
Book: Book your spot/ Inquires
Minimum 4 participants required for the SUP Paddle & Yoga tour.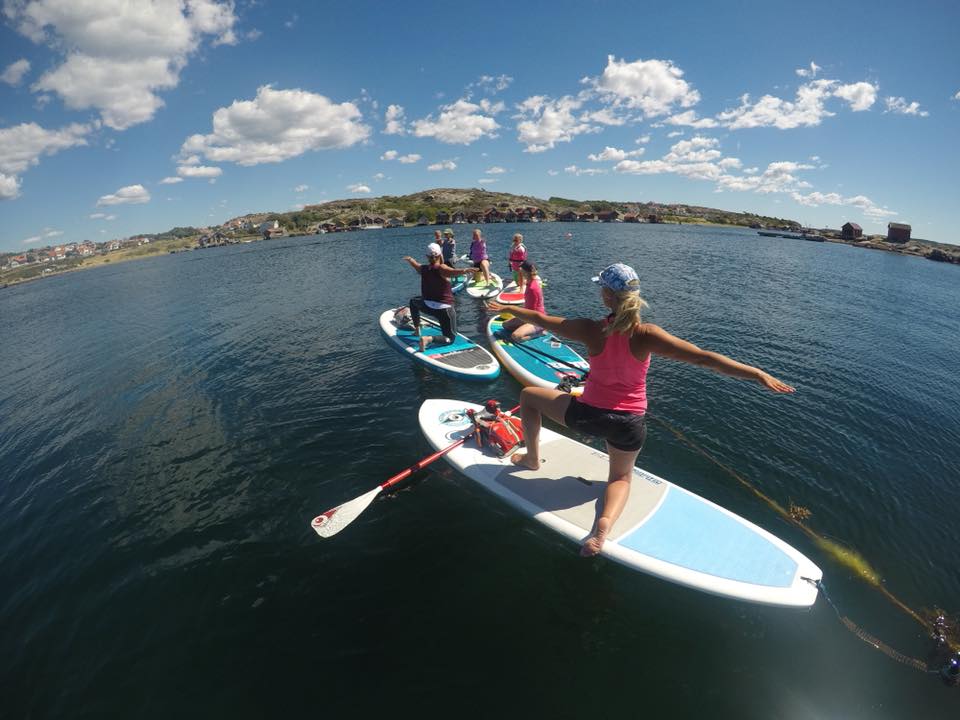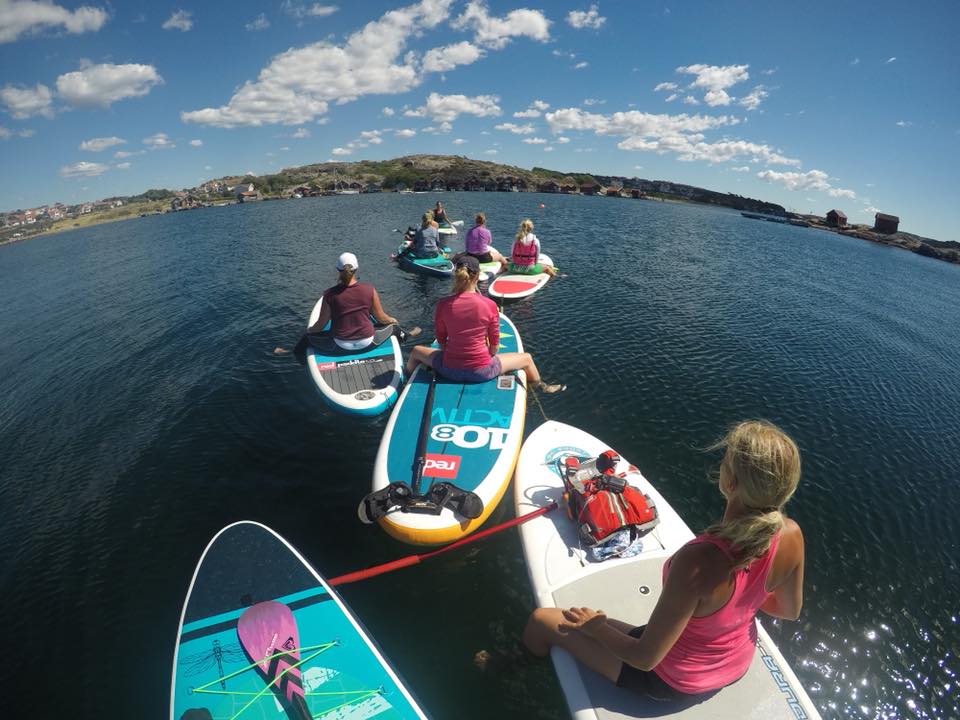 SUP Yoga
SUP Yoga is the perfect combination, when you will feel the elements of nature during your yoga practice. You will get the opportunity to enjoy the nature at first sight. Hearing birds, feeling the wind blow and the movements of the ocean while we go through our bodies, stretching out and strengthening up, with yoga on our boards. The most basic positions will get an extra challenge and the muscles will cooperate to keep your alignment.
Read more about SUP yoga here.
Time: 2 hours  SUP Yoga including equipment and a short introduction on the beach front before we paddle to our anchoring spot.
Price: 650 sek / person incl. fully equipped SUP, life jacket and if desired wetsuit. Yoga Alliance certified SUP Yoga teachers.
Book: Book your spot/Booking inquire minimum 4 participants.
Private Yoga – personal coaching and private groups
If you want a more personal yoga or prefer not to be public, we offer Private Yoga classes and Yoga for private groups. We will go through your needs and decide whether you want more Hatha (physical) yoga or Yin (recovering) yoga. You can also book private SUPYoga.
We also have the possibility to join for a "pop-up" yoga on events, if you want something extra to happen. Maybe it's the conference, a birthday with a full-day program, a bachelorette party or bachelor party or anytime when you want to give something special.
Price: 1 500 sek / 60 min Hatha yoga incl equipment May – September.
1 050 sek / 60 min Hatha yoga incl equipment October – April.
Book: Mail your inquire to info@skargardsidyllen.se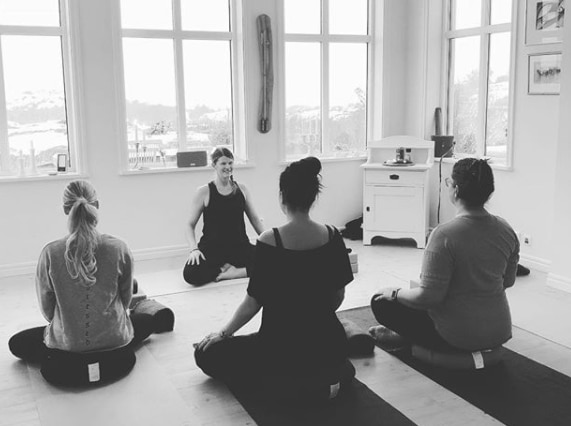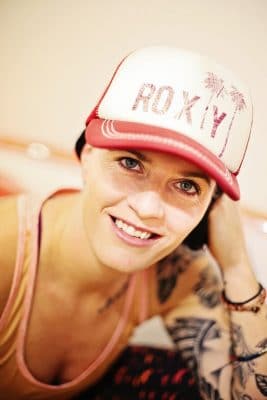 SUP Yoga Teacher Training

The Skärgårdsidyllen offers a 3 day SUP Yoga Teacher Training together with Sofie Ringsten. During 3 days, you have the opportunity to take in the practical tools and mental confidence needed to transform your yoga teaching into a floating arena. Read more about SUP Yoga Teacher Training here.
Time: Saturday the 25th of May until Monday the 27th of May, 2019
Price: 7 500 sek
Book: Book your spot / Inquires
Minimum 8 participants required for the SUP Yoga Teacher Training.
Yoga classes – autumn, spring & winter
Join us on an ocean view yoga class with the view of the horizon.
The Skärgårdsidyllen invites you to yoga classes for both beginner and more advanced practitioners. We focus on moving in harmony with the breath, which is our tool that helps us further into the training and the yoga positions. The focus is  building strength and aligning the body in both muscles and skeletons in order to practice our yoga in a nice, safe and secure manner.
The pass contains pulse increasing sequences, exercises that strengthen the body, breathing exercises, extension of stiff muscles and last but not least, relaxation – savasana.
In the small group there is time for everyone. If you want, there will be time for personal instructions, assist and corrections.
Time: Schedule at www.facebook.com/skärgårdsidyllen during events – from September to May.
Price: 200 sek / 60 min drop in Hatha yoga incl. Yoga mat, meditation pillow, blanket, yoga block and yoga belt
Book: Limited number of spots, hence pre-register at info@skargardsidyllen.se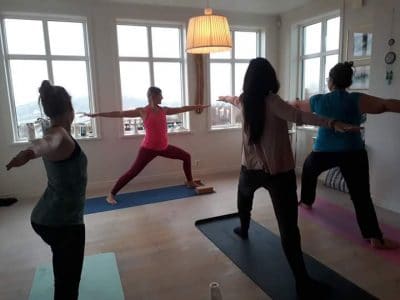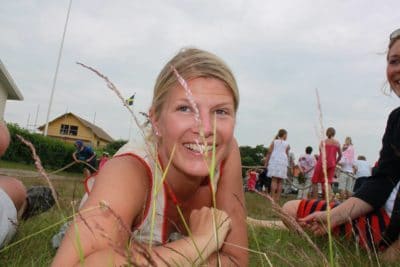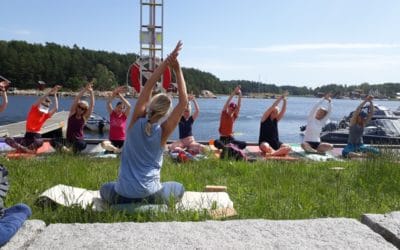 Yoga portfolio Skärgårdsidyllen's yoga teacher Ingela Holgersson
Ingela is positive, warm and caring. Her superstrenght is to be present in her class and loves to add a laugh now and then.  She sees her pupils in a nice and respectful way. You will find the beauty in the details – it is the details that makes the difference and the wholeness!
Ingela is;
Yoga Alliance Certified and Registered Yoga Teacher, RYT200
(for those curious – anausara inspired hatha yoga teacher)
Her yoga teacher was Camilla Bergström at Yogaroom in Kungsbacka, next to Gothenburg.
Other teachers during the education was Erik Myrberg, doctor/ yoga teacher, Pia Pagrell, Hatha & Yinyoga teacher.
Yoga Alliance Certified SUP Yoga teacher, SUPYogaPro25
Educated by Sofie Ringsten, who holds the SUP Yoga Teacher Training at Skärgårdsidyllen.
Yoga Alliance Certified Yinyoga teacher by Ulrica Norberg.
Other teachers during the education was Hillevi Borga and Malin Svanholm.
Child yoga leader by Angelica Henriksson, who is the only who educates Yoga Alliance Certified Child yoga and Teenage leaders in the Nordic countries.
"This is like having been to a mini SPA." 

Kim de Bruin, Grebbestad
"What you do Ingela, is strong and powerful!"

Lena Bogärde, Grebbestad
"Thank you Ingela at Skärgårdsidyllen for yet another yoga hour. Recommended. #yoga #energy #power #relaxation #yogainfantasticenvironment"

Ulrika Döbeln, Hamburgö
"Thanks for a great yoga pass. You are good! You are mentally present and see us participants in an extremely good way."

Camilla Tynelius, Kungshamn