Why choose when you can have it all!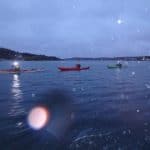 Welcome to enjoy the best West Sweden has to offer, kayaking, great food and great music.
We meet at our main centre in Grönemad, Grebbestad for a quick introduction to kayaking before we head out into the great blue for a memorable kayaking session in our magnificent archipelago. With experienced guides, this is a safe and fun experience and a great way to enjoy our nature. You don't need any previous experience since this is a guided tour.
Kayak in the dark
Kayaking in the evening especially during winter, spring and autumn is a special experience since it gets dark earlier than in the summer when the sun stays up most of the day. We bring headlights that we light when the sun sets into the ocean. When the sun drops and throw shadows that creates this magic light before there is no more light and the darkness surrounds us we light our headlights and return back to the kayak centre.
Live music & great food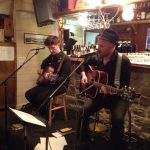 When the tour is over, head over to our favourite restaurant where great food and live music is waiting for you. This is the perfect way to enjoy the best of West Sweden in less than 24 hours. The restaurant is located on the main street in Grebbestad with plenty of restaurants, bars and coffee shops, cafés.
Prices & dates
The package includes fully equipped kayak, experienced guides, live music and food at nice, genuine, local restaurant.
For available dates and music artists contact us or view our
event calendar
Available options
Extras
[ngg_images source="galleries" container_ids="48″ display_type="photocrati-nextgen_basic_thumbnails" override_thumbnail_settings="0″ thumbnail_width="100″ thumbnail_height="75″ thumbnail_crop="1″ images_per_page="20″ number_of_columns="0″ ajax_pagination="0″ show_all_in_lightbox="0″ use_imagebrowser_effect="0″ show_slideshow_link="1″ slideshow_link_text="[Show as slideshow]" order_by="sortorder" order_direction="ASC" returns="included" maximum_entity_count="500″]