WK 640 Expedition
This kayak has extra volume and a convenient center area to carry your equipment on the trip. The hull is designed to be with a high initial stability, quick acceleration and high end speed, read more.

Length 640 cm Width 66 cm Weight 38-40 kg Cockpit 78×42 cm Material glasfiber
Price 25 690 sek
Rent 800 sek/day
WK 640 Sport
Sporty double kayak with extra leg space and design for fast and fun kayaking, read more.

Length 640 cm Width 66 cm Weight 36-38 kg  Cockpit 78×42 cm Material fiberglass
Price 25 690 sek
Rent 800 sek/day
Melker Örskär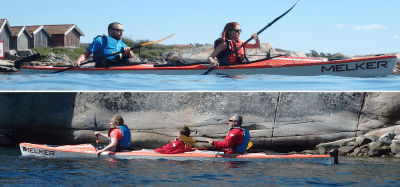 Melker Orskar is a innovativ and flexible double kayak that is easily transformed into a single or tripple kayak with an extra cockpit for the child or pet read more about Melker Orskar here.
Length 586 cm Width 64 cm Weight 31-33 kg Cockpit 81×43 cm
Price 26 990- flax 31 990 sek
Boreal Design Esperanto
This is a roomy double kayak with extra storage between the two cockpits, which makes the kayak ideal for weekend trips or day trips with children or pets. The kayak is stabile and easy to maneuver with the quality rudder, read more.

Length 586 cm Width 57 cm Cockpit 81×42 cm
Weight 46 kg
Price 20 900 sek
Rent 600 sek/dag
Liker Easty D 5.5
Easty D 5.5 is a roomy and stable multipurpose kayak, that will surprise even experienced paddlers with its maneuverability and efficiency. While easy to master for the beginner, the behavior in wind and waves will appeal to the experienced paddler, read more here.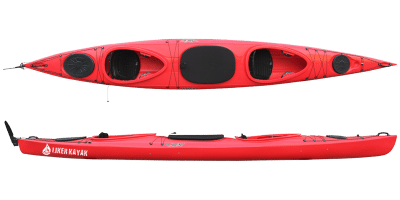 Length 550 cm Width 72 cm Volume 332 kg Cockpit 85×44 cm Weight 35 kg Material 3 layer PE Design Björn
Price 14 500 (2 seat) – 15 900 (3 seat + smart track rudder) sek
Rent 600 sek/day
Lifestyle Duo PE
Lifestyle Duo PE is a unique family boat with complete package of speed, control, and comfort. It is suitable for medium to large sized paddlers.

Length 523 cm Width 69cm Cockpit 96×53 cm Weight 35 kg Material 3 layer PE
Price 15 500 sek
Rent 600 sek/day