Light, Stable & Sustainable
Melker Väderö is already a proven success in its home market, Sweden! It is highly admired by both paddlers and the kayak/outdoor industry. The kayak was tested by Outside Magazine in the summer of 2015 and received rave reviews: "…Innovation, value for money and design in a perfect combination – a potential bestseller…"
Melker Väderö has a timeless design and benefits from the FSC Bamboo or Flax Composite characteristics in combination with a honeycomb structure. This makes the kayak lighter, stiffer, and more durable. The new bamboo and Flax design brings an awesome look and feel to the kayak!
Melker Väderö is a secure and stable all rounder for novice and intermediate paddlers – a kayak to enjoy and evolve with for a very long time:
– Well balanced initial and end stability
– Great control and easy to maneuver
– Easily accessed dayhatch placed on the foredeck
– Great space for overnight adventures with two big hatches placed in the bow and the aft.
The fitted cockpit is arranged for excellent comfort and great convenience during entry and exit. The adjustable, ergonomic and padded seat in combination with optimal legroom and padded thigh braces, gives you great control and keeps your back and legs happy during longer adventures.
The kayak is designed by award winning designengineer Magnus de Brito, together with adventurer Sören Kjellkvist, to meet our highest possible standards of sustainability, design & innovation, function & security, and value-for-money.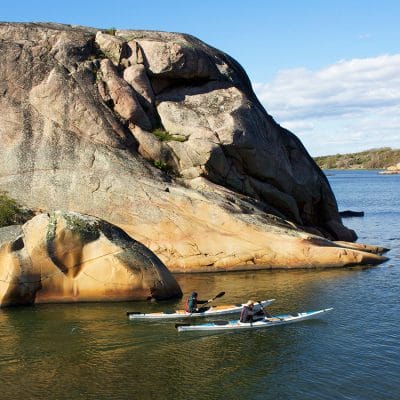 Optimal paddler weight: 75-110 kg
Length: 520 cm
Width: 58 cm
Cockpit size: 83 cm x 43 cm
Storage: 75l + 115l
Weight: (Base/Stripe) 24 kg
Weight: (Bamboo) 23 kg