National park tour
Take the chance to explore Sweden's only marine national park from the front row and experience the serenity beyond the city noise. Kosterhavet is Sweden's first marine national park and was opened in September 2009. Here are 12 000 species, half of them under the surface.
The guides have extensive knowledge of the national park and share their knowledge of the marine life and the national park's nature, wildlife and history.
We meet outside Naturrum at Ekenäs Sydkoster or The Rossö Entrance and paddles around the national park and talk about what we see and experience. There is plenty of time to get answers to all your questions.
The idea is to combine the guides' knowledge of the National Park with the first hand experience of the National Park. What better way to learn than to combine theori with practice at the same time. We will also take a short break at one of the island and explore the shore and see what we can find on the beach. If we are lucky, we can see a seal or two during the trip.
Prerequisites
You need no prior knowledge. We assume, however, that you are able to swim and you are 15 years or older. The tour itself is an introduction to kayaking where we continually train in the basic skills you need. It is a good idea to bring sunprotection, swim/neoprene shoes, water and extra clothes.
Time and place
The tour takes about 4 hours  including short introduction and picknick along the way.  If you choose Naturum Ekenäs as your stating point you will find the ferry schedule here. The ferry runs several times a day.
Minimum 4 persons in a group
Price
Monday-Friday:
1650 sek per person for 4 hours inc. guide and fully fitted kayak, lifejacket and picknick
Saturday-Sunday:
1750 sek per person for 4 hours inc. guide and fully fitted kayak, lifejacket and picknick
Book and pay offline
If you prefer to pay offline via invoice, swish or paypal please use our booking request form.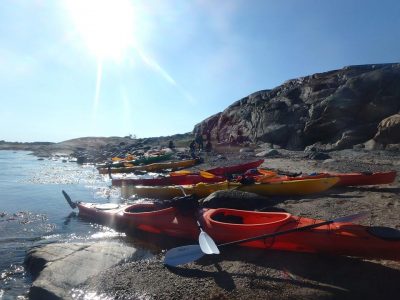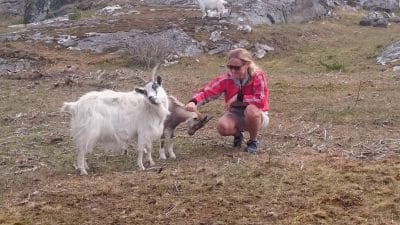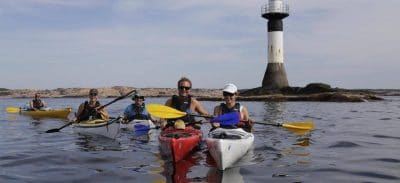 Book and pay online
Loading…