Ocean experience deluxe
Kayak, seafood platter and oyster tasting at sea. Why choose when you can have it all! Welcome to the calm and picturesque village of Grönemad just outside the popular summer destination Grebbestad. Situated here are two family run companies that has made them self know all over the world for their exclusive tours in the magnificent archipelago or west Sweden.
Guided archipelago paddling with Skärgårdsidyllen Kayak & Outdoor
We meet up at Skärgårdsidyllen Kayak & Outdoors kayak centre in Grönemad, Grebbestad. After a brief walk we head down to the beach and out among the islands and skerries for a three hour long kayak tour.
Grebbestad is world famous for its oysters and during the tour we will become acquainted with the oysters in their natural environment. Our guides will share their knowledge of the wildlife above and below the surface, the local history and the culture that characterizes the area.
According to the weather and the wind, we stop for a beach hike on a suitable island where we stretch our legs and are offered a traditional "fika", i.e. coffee and a cake before we return to the kayak center.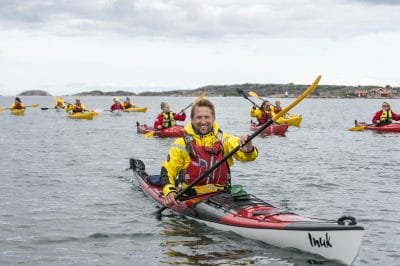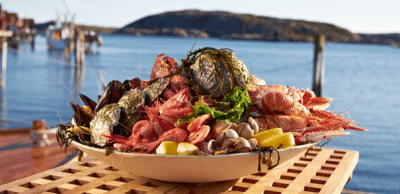 Seafood plate at Everts Sjöbod
In Everts Sjöbod, the Karlsson brothers have set up a seafood platter with fresh seafood that comes directly from the ocean. You will taste fresh shrimp, crayfish and mussels with accessories such as aioli, cheese and bread. For the meal you can choose between local drinks without or with low alcohol content.
You will round of the lunch with coffee and something sweet, depending on the schedule and weather, you will be served in the fisherman cottage or on the boat.
Oysters tasting on the sea
At two o'clock you step on Evert's wooden boat to try oysters in its proper element – at sea. You go out among the bridges and cuts, where you will learn how to open oysters and how they are best enjoyed.
Price:
Monday-Friday: (spring & autumn)
3450 sek / person
Standard rate:
3950 sek / person
The price includes:
Archipelago paddling ink. guide and fully equipped kayak and a coffee break.
Lunch – seafood platter with accessories, non or low alcohol drink, coffee & cake
Oysters served on or by the sea
Book: Send booking request and pay offline