A big and important part of the outdoor life is the meals. A full stomach is key for a nice experience. It doesn't matter if the sun is shining and the views are spectacular if you are hungry. Our bodies needs slow carbohydrates to fuel our muscles over time. In time of temporary dips fast carbohydrates like fruits, nuts can help and give  us that extra energy to regain the smile. Besides the meals is a nice and social event. Presented below is some tips and suggestions on meals to bring.
Suggestion of meals
Water
2 liter per day and person. Bring extra water in case you'll have to stay out longer than planned. The water is great to store in water bags or small foldable bottles that doesn't take space when empty.
Breakfast
Oatmeal
Müsli & Yogurt/Soygurt or Oatmilk/coconut milk – empty and share one container at a time.
Fruit
Bread – wholemeal and/or crispbread
Frozen juice works as a cool pack and refreshing cool drink full of vitamins
Butter – soured from our local dairy Greby Mejeri (works better than normal butter outside the fridge) or perhaps peanut butter
Egg – boiled, fried or scrambled (you can also boil some extra for later)
Full English breakfast – bacon, scrambled eggs, bacon & toast made in the pan
Spread: vegetables, hard/soft cheese, salami, Tartex, Kaviar, hummus, canned mackerel in tomato sauce etc
Varm beverage – tea, lemon-, honey water, coffee, chocolate. Nescafé and similar are very handy to use.
Ps.
Boil some extra water in a termos for later.
You can als prepare some nuts, raisins, dried fruit, dark chocolate in case someone gets tired and need some extra energy during the kayaking.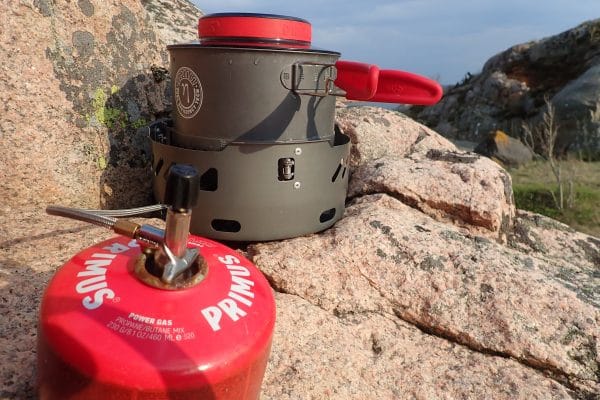 Lunch
A good idea is to prepare lunch when you do the breakfast and store it in a thermos. If you don't want to prepare the meal it is still good to prepare some hot water in a thermos to save time when making the lunch.
Banana pancake (2 bananas, 4 egg, 1 krm salt, 1 tsk vanilla)
Soup (bullion and vegetables) + bread
Boiled eggs from breakfast
Noodles
Smoked fish, shrimps, mussles or meat
Pickeled herring and hard break
Pasta, potato, quinoa, couscous or any other of your favorit grains to make a sallad
Ps. Boil some extra water in a termos for later.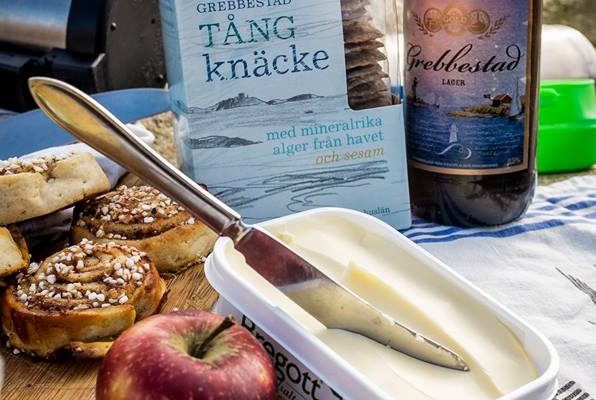 Dinner
Use the plate modell which consists of three parts: The first and largest part is vegetables and root crops. Tomatoes (fresh, tinned or dried), carrots, union, garlic, mushrooms (tinned or dried) and olives. The second part is potatoes, pasta, noodles, bread or corn like rice, bulgur, quinoa, couscous etc. The smallest part in protein like meat, fish, egg, beans, pies, tofu etc
The first day you can eat fresh fish, the second day light smoked, followed by hard smoked and finally tinned, conserved or dried food. Fry the food in olive oil since it lasts good in heat and consists of good acids. Bullion, tomato puree, salt & peppar and other favorites spices.
Halloumi cheese with rice and pesto + vegetables
Sausages grilled over the fire
Pasta with tuna and tomato sauce
Pasta with tuna, feta, olives and tomatoes
Ingela usually prepers different sallad dressings in small bottles. This is a great way to get different tastes without bringing all spices from the cupboard.
Desserts
Fried banana with chocolate natural or wrapped in seaweed/foil
Fried Marshmallows
Fried apples with cinnamon and sugar
Snacks
Dry sausages
Olives
Canned artichokes
Muesli bars
Nuts, dried fruits
Banana, apple
Carrots
Dark chocolate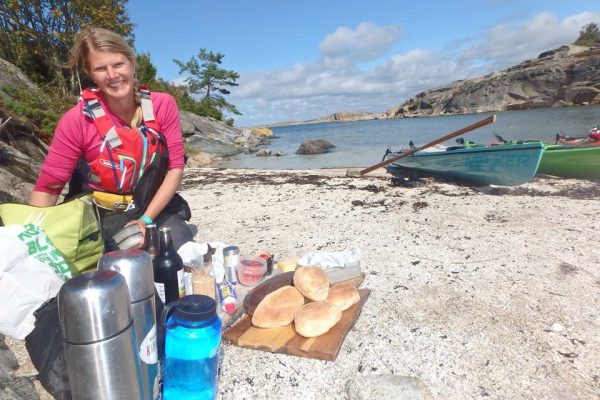 Ready meals
If you don't want to dry your own food there is a wide range of dried and conserved meals to by. The only thing you will have to do is add hot or cold water. These meals contain all you need and don't take much space to store. The biggest advantage is that you can still get a warm meal even if there is a fire ban and you only have cold water, see video below. At our main centre in Grönemad, Grebbestad we sell outdoor meals from Blå band and OutMeals.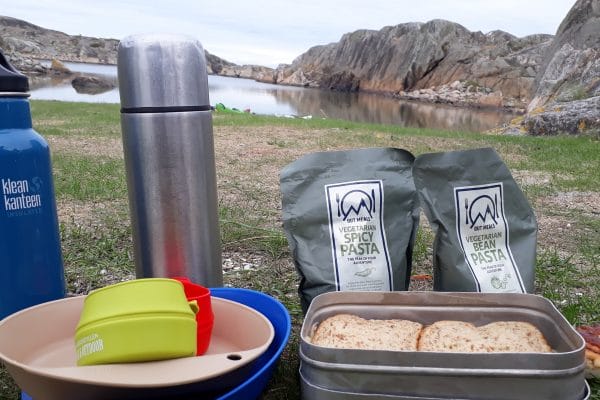 Hot meal without fire or hot water