Rental prices
SUP
1 hour *
4 hours
8 hours
9'10" SUP (max 90 kg)
200 sek
400 sek
600 sek
11'0″ SUP (max 130 kg)
200 sek
400 sek
600 sek
* It is only possible to book 4 hours or more in advance, for 1 hours rental drop-in booking on site is applied
Guided tours and cources
We are happy to help you and your group, company to make the most of your time. We offer SUP tours for beginners, Winter SUP and have guides that can provide SUP yoga, SUP competitions and SUP teambuilding. Just contact us and we are happy to tell you more.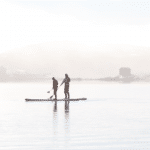 SUP intro trour
The goal of this tour is to introduce you to the magical world of SUP. No previous experience required. Together with your instructor and your fellow paddlers we walk through and practice the basics of SUP. We paddle close to land sheltered by the archipelago suitable the premiere tour, read more about SUP intro tour
Winter SUP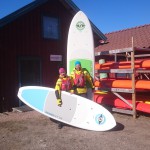 Welcome to explore our otherwise buisy archipelago when the summerbirds and guest has moved on. Now you can experience the same islands with new eyes and from a new perspective. It is less crowdes and less boats out which makes it easier to get closer to the nature and animals. We offer secure and safe SUP tour with dry suits and experienced guids, read more about Winter SUP
Stand up paddelboard
Originating in Hawaii as an offshoot of surfing, stand-up paddleboarding has been the fastest growing watersport for five years in a row, and its popularity is surely down to its versatility. It's hard to view a coastline or flick the pages of a magazine without seeing someone with a board and paddle these days. So, if you haven't tried it, this is your chance.