Welcome to spend your holidays in West Sweden at that place where the coastal landscape is as most beautiful –
in Grönemad, Grebbestad.
This lovely and modern holiday home is really suited for the relaxation, you have longed for, both because of its panoramic view of the ocean Skagerrak and its peaceful location, where you won't be disturbed. Around the house you will find the fantastic cliff/rock landscape of this region.
This ECO house offers a fascinating and comfortable living in an open room solution where living room and kitchen meet each other. It has two bedlofts, an extra niche with a bunk bed, WC, shower and fully equipped kitchen with stove, oven, coffee maker, microwave et c. If the sky is looking grey, you make a fire in the firepace and enjoy the ocean view and the company of your dears. Most of the time the weather is fine and you can make use of the beautiful seating areas around the house and you move with the sun until it disappears by the horizon in the evening. Cloudless nights the starry skies expands.
It is 150 meters to the sea, bathing jetty and salty granite cliffs. If you prefer a sandy beach, it is located 200 meters from the house. For children (and adults), the crab fishing by the beach is epic. We offer outdoor activities all year round, such as a guided archipelago tour in a kayak, on paddle board or by boat. We are also happy to help you renting kayaks if you have previous experience, if not, we hold courses for curious beginners to the more advanced paddlers. During summer we offer open outdoor classes in yoga two days a week. During the rest of the year we organize private kayak trips, courses, private yoga, hikes and food adventures at sea and on land.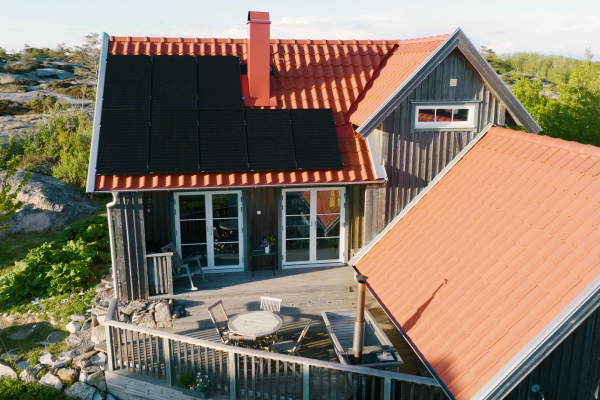 Close by the cottage you will find tennis, golf, diving, padle, gym, boat and fishing trips and two seaside nature reserves; Tjurpannan and Veddö. In Grebbestad, within walking distance, you will find local bakeries, café, several fine dinings/restaurants, shops, local craftsmen, our national liquor store, pharmacy and a cinema with fantastic sound. Entertainment is offered all year round. Just 2,5 km off in direction E6/Tanumshede, you will also find our local dairy.
The price varies depending on the season and which package you choose. Contact us or send a booking request and we will tell you more.
During winter time you can add on a logg fired Hikki ourdoor hot tub from the swedish artist Per Enoksson for an additional 1 500 sek/day. The hot tub fits two adults and two children.
Finally, we want to present our core values that permeates everything within us and our business – to bring sustainability into all aspects of what we do at Skärgårdsidyllen. We can not always succeed, but by trying, we will get long. When it comes to our Ocean View Cottage, from the beginning we have tried to incorprate sustainability, as we built the house by ourselves from scratch. Below the photo gallery you can read more about the Ocean View Cottage and what we mean by the term ECO House.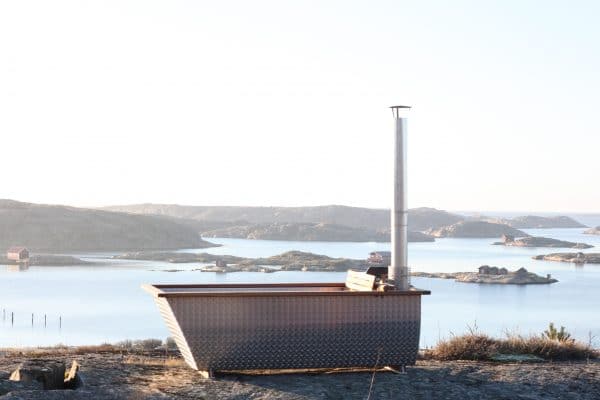 ECO House – Best for a couple / small family / small group of friends up to 5 guests – 1 double bed – 1 bunk bed (80 x 200 m) – 1 sleeping loft / 2 beds – 1 toilet – 1 shower room – Wifi – Kitchen – 1 room – Fireplace – 2 patios – BBQ – Bookable washing machine – Free parking – Charging Post for electric vehicle (4 sek/kWh) –
Non-smoking – Pet free
Ocean View Cottage – an ECO house
In the cottage we have used recycled material from an older house that stood on the property. In addition we have used a large extent of local materials, like windows from the local window factory TanumFönster (now known as Nordan), door from the local door carpentry Lurs dörr, kitchen from the local kitchen builders Joreds Postformning which is outside Hamburgsund et c.
Good insulation – a way to reduce the consumption of electricity. Windows and window doors in the Ocean View Cottage are from the local TanumsFönster (now Nordan) and have the lowest insulation value, so-called U-value, on the market, which means that we minimize energy losses and thereby save the environment, by minimizing the electricity that is required for heating the house. In addition, the house is insulated as a residential house according to today's standard. The exterior door from local Lurs Dörr also has a vary low U-value of 0,9 which effectively minimizes the energy losses in the house.
Exhaust air heat pump, which supplies the house with hot water and heating, means that we make use of the sun rays through the windows, the heat we generate by ourselves only by being, the heat generated by cooking or burning in the stove and fireplace. Even by using the toaster. All heat that is generated, is reused for heating the domestic water and the house through the heating system. The heat is distributed through the house by water loops that lie in the floor and provides a pleasant experience for all our guests.
Hot water jacketed stove – the heat from the firestove quickly heats the cottage. In addition there is water loops in the firestove, that enters the heating system through water loops for further heating of the household water and long-term heating of the house.
Recycling – we are very careful when it comes to sorting household waste into different fractions. In this way as much as possible can be recycled. The fractions are newsprint, cardboard, plastic, colored / uncoloured glass, metal, compost and combustible household waste.
The house is painted in iron vitriol that carries our cultural heritage for boathouses and other small buildings in our small local community Grönemad. Iron vitriol is durable in that way, it contains only natural components (iron vitriol / iron sulphate, water and local soap) and the wood is treated only once, before setting up the facade of the house. After that, you do not need further maintainance of the facade, unlike regular paint.
Toilet with limited water use while flushing. Both the water and the outlet are connected to the municipality's networks, which ensures the quality of the household/ drinking water  (yes, you can drink straight for the tap and do not need to buy bottles at the supermarket) and how the outlet is disposed of.
We use locally made Eco labeled toilet paper and kitchen paper from Serla, which is manufactured in Mariestad and is packaged in materials marked with Green Pack. Serla has a far-reaching environmental thinking both about its products and its production. Balancing comfort, empowerment, environment and sustainability in its three aspects, is what we find the best option on the market by choosing Serla. We may have strangely spent a lot of time on the choice of toilet paper, but it is a product that every person in all of Sweden uses many times a day. This makes us think that the choice of toilet paper is an important choice. Not just symbolically, but actually for real. The toilet paper makes a big impacked on the environment and in the next stage as well, in the way of how it can be taken care of at the outlet plants, where it is of great importance that the toilet paper easily can be broken down as fine components as possible to give a gentle and perhaps even beneficial, residual product in the end.
We wash all the sheets and towels ourselves on site and use eco labeled Grumme Laundry Soap. We avoid dryers, letting the laundry dry itself.
As a minimum, we offer locally made and Eco labeled products to our guests such as hand soap, which is also the minimum requirement we have for the environmental classification of the products we use for cleaning. Our only exception is the locally produced hand alcohol, as hand alcohol does not seem to be able to be environmentally classified, but has become part of everyone's everyday life. Instead, we have chosen hand alcohol from Vasco, which has its production in Fjällbacka, which is a few miles south of us.
The solar cells on the roof make the house self-sufficient in electricity. When too much electricity is produced, there is a surplus that is sent out into the national electricity grid and when there is a deficit of electricity, on the other hand, it is taken out of the national electricity grid. On an annual basis, the house becomes self-sufficient of electricity. The electricity purchased to even out the curvesm comes from GodEl, which only sells electricity certified by the Swedish Society for Nature Conservation's most stringent label – "Good Environmental Choice" – the only independent eco-label for electricity in all of Sweden. GodEl is also a foundation whose profits go to charity. As a customer of GodEl, you can decide for yourself where you want the financial surplus from your consumption to go. We have chosen to support Médecins Sans Frontières (MSF), which we believe makes a heroic effort.
Most of the furnishings are inherited, recovered or renovated, in the spirit of reuse, recycle and repair. We have also made some lamps for the house from fine driftwood pieces that stranded on the islands off Grönemad.
The porcelain you use in the Ocean View Cottage is Ingela's grandmother & grandfather's engagement gift, a tableware from Swedish porclain factory Gustavsberg. The older things have been supplemented with newer ones as they have had to be replaced and, for example, the sofa bed in the living room is from Swedish IKEA, which is such a large company that they can influence the producers in an environmentally and sustainable direction at all levels. In the Ocean View Cottage you will also find such as breakfast bowls from our local ceramicist Sanna Wijk, who works down in Grebbestad and the green oil paintings on stones hanging on the wall facing north are made by our local artist (who has his base in Gothenburg) Lennart Didoff who lives down the road during summer stays in Grönemad and belongs to the well know art collective "Göteborgskoloristerna". This is to name a few examples of how we think about introducing sustainability in all aspects of living.
Do you have more ideas, thoughts, ideas – feel free to share them with us.
Review
Wir hatten eine ganz wunderbare Woche im kleinen Haus von Ingela und Marcus. Die Aussicht ist atemberaubend schön, das Haus ganz liebevoll gestaltet mit hübschen Details. Es gibt rund ums Haus 3 Sitzplätze, so dass man immer wählen kann ob man in der Sonne oder im Schatten sitzen will. Auch in der Umgebung gibt es viel zu entdecken, Ingela und Marcus geben sehr wertvolle Tips. Die beiden bieten auch Boot-Trips oder Kajaks an. 
Am liebsten wären wir noch geblieben! – Franziska
Ingela et sa famille habitent une région merveilleuse pour des vacances en famille au bord de la Mer Du Nord. Leur accueil est très chaleureux. Leur magnifique maison d'hôte, décorée avec simplicité et bon goût, offre une vue imprenable sur les petites îles au loin. Accès à la mer en quelques minutes à pied. Un petit coin de paradis! – Désia
My fiancee and I had an absolutely fantastic experience at Ingela & Marcus' house! They are incredible hosts, that not only helped us with everything related to our stay, prepared an amazing lobster dinner and home-made swedish breakfast, but also took on a lobster catching boat ride. They do everything with a very personal touch, which creates long lasting memories. The house is also great, located on the hill with a view over the bay, there are several towns nearby with restaurants and local attractions, and overall this place is really ideal for a romantic getaway. We totally loved it! – Dmitry & Liza