Holidays at the West Coast of Sweden near Grebbestad. Spend your holidays at that place where the coastal landscape of the Bohuslän region is most beautiful, in Grönemad, Grebbestad.
This lovely and modern holiday home is really suited for relaxation, you have longed for, both because of its panoramic view of the Skagerrak and its peaceful location, where you won´t be disturbed. Around the house there is the fantastic cliff/rock landscape of this region.
The holiday home offers a fascinating and comfortable living in an open room solution where living room and kitchen meet each other. It has two bedlofts under the roof, a niche for sleeping, WC and shower. If the sky is looking very grey, you can put some candles in the romantic firepace and enjoy the company of your dears. Most of the time the weather is fine and you can make use of the beautiful seating areas around the house and you can move with the sun until it disappears in the evening over the sea.
For people who are courageous, there are some cliffs to go swimming, about 150 meters away. But if you prefer a sandy beach, than you simply continue 50 meters more. You can go diving here with friends, rent a kayak or take part in a boat or fishing tour.
During winter time you can add on a logg fired Hikki ourdoor hot tub from the swedish artist Per Enoksson for an additional 1 500 sek/day. The hot tub fits two adults and two children.
This accommodation is non-smoking and pet-free.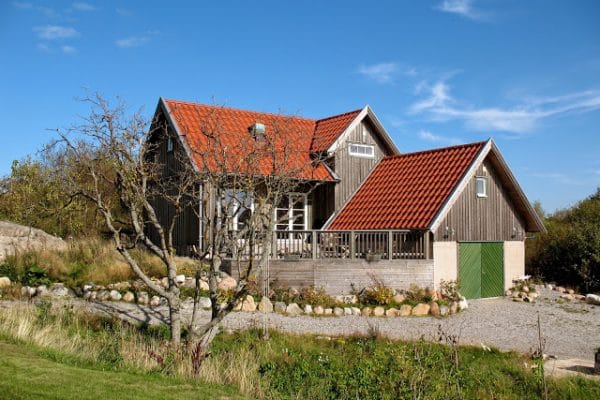 Review
Wir hatten eine ganz wunderbare Woche im kleinen Haus von Ingela und Marcus. Die Aussicht ist atemberaubend schön, das Haus ganz liebevoll gestaltet mit hübschen Details. Es gibt rund ums Haus 3 Sitzplätze, so dass man immer wählen kann ob man in der Sonne oder im Schatten sitzen will. Auch in der Umgebung gibt es viel zu entdecken, Ingela und Marcus geben sehr wertvolle Tips. Die beiden bieten auch Boot-Trips oder Kajaks an. 
Am liebsten wären wir noch geblieben! – Franziska
Ingela et sa famille habitent une région merveilleuse pour des vacances en famille au bord de la Mer Du Nord. Leur accueil est très chaleureux. Leur magnifique maison d'hôte, décorée avec simplicité et bon goût, offre une vue imprenable sur les petites îles au loin. Accès à la mer en quelques minutes à pied. Un petit coin de paradis! – Désia
My fiancee and I had an absolutely fantastic experience at Ingela & Marcus' house! They are incredible hosts, that not only helped us with everything related to our stay, prepared an amazing lobster dinner and home-made swedish breakfast, but also took on a lobster catching boat ride. They do everything with a very personal touch, which creates long lasting memories. The house is also great, located on the hill with a view over the bay, there are several towns nearby with restaurants and local attractions, and overall this place is really ideal for a romantic getaway. We totally loved it! – Dmitry & Liza