SUP Yoga Pro Teacher Training 25 h
Teacher Sofie Ringsten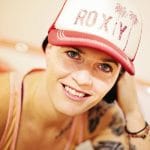 For the second time Sofie Ringsten comes to Skärgårdsidyllen Kayak & Outdoor, to hold a 3 day SUP yoga instructor training that gives you the practical tools and mental confidence to transform your yoga teaching into one floating arena.
During this training you will develop your paddelboard skills with a great focus on paddling and safety. A large part of the training focuses on paddling technique and safety, which extends your comfort zone on the board and the role as a SUP yoga instructor.
Syllabus
• Paddle technique
• Equipment, overview
• Paddelboard specific life-saving technologies
• Communication on water
• Extended comfort zone on the board
SUP yoga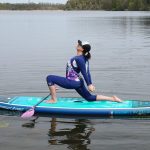 • The voice as SUP Yoga teacher
• Preparation and introduction of SUP yoga on land
• Therapeutic aspects of SUP paddling and yoga
• Suitable Yoga asanas for a SUP board
• Designing effective SUP Yoga classes to challenge all levels – from beginner to experienced
• Meditation and breathing exercises on SUP boards
• Adaptation of SUP yoga class depending on location and conditions
• Traditional yoga vs SUP yoga
• Sequencing for SUP yoga classes
• The role of SUP yoga teacher
• Tips for building your own SUP yoga business or collaborating with SUP board stores
• SUP Yoga Pro signature class: The Ocean Flow sequence
About the teacher
Sofie Ringsten has a background as a police and elite athlete. Within the wrestling, Sofie came in contact with yoga after an injury in the service as a police officer. Sofie is a full-time yoga teacher, specializing in educating yoga teachers in Yin Yoga and SUP Yoga. She is SUP Yoga pioneer in Sweden, founder of YYFA® Yin Yoga for Athletes and SUP Yoga Pro. She is also Klean Kanteen ambassador, as well as team rider for Black Cat Boards. She is a passionate SUP paddler and ultra-runner. The last years Sofie has been trained in Chinese medicine and is now a professional acupuncturist.
Practical information: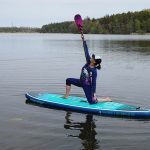 Date: Monday 29th of June – Wedensday the 1st of July, 2020
Course fee: 7 950 sek inc VAT (just let us know if you want to split the payment on two occasions)
Included: Equipment, SUP Yoga Pro 25 h Yoga Alliance certificate, educational manual in pdf format, E-book in pdf format: "SUP Yoga: The meeting between asanas and the healing powers of water".
You are welcome to bring your own equipment, but the price is the same.
Not included:
Transport
Accommodation
Food
Extra meals/snacks
Insurance (travel and health)
We reserve the right to cancel if we have fewer than 8 participants and will shortly set a final registration date.
NB. There may be traces of cat in the premises, when/if we are staying to indoors.
Good to bring:
Yoga mat, personal paddling safety equipment, cloths that works for paddling and SUPyoga (remeber a hat, sun protection, waterproof bag and a bottle for spring water), change of cloths, towel, food, baverage and some extra energy. You will have the access to a commute kitchen for making lunch, eventually we will have an open air lunch. You may bring your own equipment (if so, we are able to try out even more brands and models of boards).
Prerequisites
• 200h yoga teacher training
• Know how to swim
• Feel secure, safe and relaxed with staying in, on and around the ocean.