West Sweden OSC
Outdoor Sport Camp
Welcome to West Sweden, Bohuslän and more specifically Saltviks camping and Skärgårdsidyllen Kayak and Outdoor. We invite you to explore and enjoy the clear blue ocean, the smooth granite rocks and the outdoor activities we love to do. During a weekend in September you will get a chance try kayak, paddelboard, trail run, OCR (obstacle course race), yoga, workshops together with like minded and professionals, download the schedule.
You can also enjoy a nice walk, run, beach clean up in Tjurpannan nature reserve or visit Grebbestad and be part of the Oyster festivities which is a day that celebrates the Oyster that has put Grebbestad on the world gourmet map.
When: 6-8 Septembre 2019
Where: Saltviks camping, Grebbestad
How: 3 days full board and outdoor activities
Price: Premier price 3450 sek
Kayaking paradise
The archipelago, the ocean and the Swedish west coast is know for its beauty, crystal clear water, unique  nature with many species. Kosterhavet is Swedens first marine national park with over 12000 species above and underneath the surface. The archipelago is considered a kayaking paradise according to CNN and many with us.
This is where Ingela & Marcus decided to run their family business, Skärgårdsidyllen, that offers kayak, paddelboard, yoga and outdoor activities all year round.  The company is popular and visited by guests and reporters from all over the world.
Kayak
Experienced and certified guided approved by the Swedish canoe federation offer guided archipelago tours and kayak courses for beginners and professionals. If you are interested you can do an exam and get a European Paddle Pass certification. This is a international certificate that works like a driving licence for kayaks.
Paddelboard
Stand up paddelboard, SUP, is one of the fastest growing water sports in the world. The reason is that it has something to offer for everyone. You can compete in sprint, distance, surf etc. You can play around for a few hours, do a day tour  or overnight tours.  SUP offers great practice for the core and balance since most of the body is active.
Yoga
We offer outdoor yoga, indoor  yoga and SUP yoga on the ocean. Yoga is not just a great way to stretch and practice balance and core. It is also a great way to focus on your self and relax. Ingela has many years experience and training and is certified by Yoga Alliance.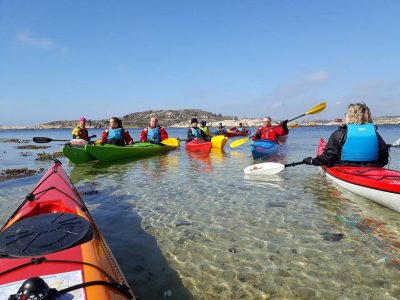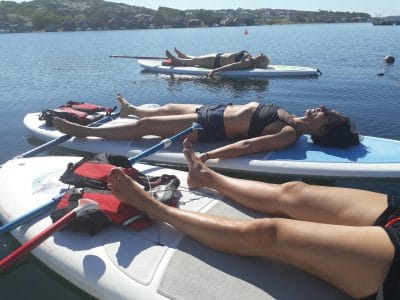 World class instructors
The training and OCR activities is run by our experienced coaches and athletes. Both Joakim and Elin that run Saltviks camping is dedicated OCR athletes. They have been travelling the world with their friends e.g. Cecilia Jägested competing nationally, internationally and in the world championship.
What is OCR
OCR is short for Obstacle Course Race and can be described as the traditional obstacle course but on steroids. OCR combines trail run with strength, flexibility and technique. The races are usually between 5-15 km in terrain with dry and wet obstacles that you climb, jump etc. The races attracts crowds of supporters and entusiasts much thanks to the playfulness, challenging and audience friendly set up, here you can have a look at a  OCR race.
How will we practice OCR?
You will have a chance to trail run along the coastline of Tjurpannan nature reserve a great place not just to run but also experience nature, the smooth granite rocks and se the ocean in all its different lights nad shapes depending on the weather. We will divide the groups into different sections depending on time and pace so that you will find a group that fits you level.
Besides the trail run we also offer technique and strength sessions so that you'll learn how to master the typical obstacles in a optimal way. We also have masseur and physiotherapist on site that can provide information and help on how to prevent injuries.
Book your spot today!
Max 36 participants
Our goal is not to become the largest festival or the coolest. Our goal is to be personal and professional and that is why we have set a maximum number of participants and run most of the activities our selves. That way we can ensure that we stay personal and professional and with smaller groups we have a great opportunity to see everyone and be flexible.
6-8 September 2019
The officiell program starts on Saturday at 08:00 until Sunday at 14:00.  But many are traveling from far and abroad so you are welcome on Friday for check in, dinner, mingle and perhaps a bonus activity.
Saltviks camping
Saltviks camping is the venue where we sleep, eat and start most of our activities. Depending on the weather we will do necessary adjustments. Bring warm clothes, rain, wind and sun protection and an extra set of clothes in case you get wet.
Premiere price
This is world premiere for us to host Outdoor Sport Camp and we celebrate this with a reduced price, 3 450 sek/person (ord. price 5 450 sek)
The price includes full board part in cabin the 6-8th of September, kayak, sup, yoga, trail run, OCR, walks (without guide), workshops and oyster, download the schedule
If you don't want to share cabin you can get a tent spot for free or get your own cabin if available for an extra cost.