Set your roll with Zet and improve your paddling technique!
Zet Freiburghaus is the man that went viral and ended up on everyone's lips when he rolled his kayak, without spilling a drop of beer.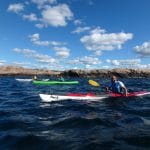 Zet have paddled as elite canoeist and his CV includes a pair of national championships and a golden medal in the Nordic Championships. His specialty was the 200 meter sprint!
In addition Zet is a good educator and in his daily life he works as a teacher in South of Sweden.
Zet will visit us two days and provide a 4 hours paddlingtechnique and roll classes. We will start off with paddling technique and continue with rollclass since these have a tendency to get wet. If you have any persoal goals or dreams share these with us and Zet will provide you with excersices and feedback to help you develop your skills.
Book a cabin or set up a tent at the local campsite or the archipelago just outside or kayakcentre to prolong your stay and make the most of your visit. If you have any questions or concerns please dont hesitate to contact us or simple submit your booking request today 🙂
Date
Time
Location
Price:
Status
17-18 June 2017
Coming soon

Grönemad, Grebbestad

1250 sek
6 spots left
Welcome to join us, book now!