Tack för att valt oss för ditt äventyr. Om du är nöjd med din upplevelse dela gärna med dig till dina vänner och lämna gärna ett omdöme via TripAdvisor, Facebook, Google eller Kanotguiden. Om du inte är nöjd med din upplevelse kontakt gärna oss så att vi kan bli bättre. Här nedan finner ni några omdömen vi fått från tidigare gäster.
TripAdvisor
Very helpful owners, good kayaks and excellent inshore kayaking amongst the archipelago of western Sweden with its micro climate and calm seas. We went out as two doubles for four... read more hours, plenty of time to get a feel for the area and explore. Just ahead...More

White S


7/28/2017
Google
In preparation for a 3-day-trip with kayaks rented from here we took a intro-course with Marcus as our guide. He really knows his way around the kayaking scene and makes you feel safe and sound from start to end. Even with little to none experience we did not hesitate when it came to the capsize-exersice! The introduction even came with a nice surprise during the break, but I don't want to spoil it for others. For the 3-day-trip we were provided with maps and everything else we needed. I would definitely recommend Marcus and Ingelas rental and their services. 5/5! 🙂

Regel Nummer 1


8/10/2019
Facebook
Jag hade praktik hos Skärgårdsidyllen i min utbildning till kajakguide. Här upplevde jag väldigt bra bemötande och bra anpassning av tur efter förmågan, så att alla i gruppen fick en fin upplevelse.

Thomas Mogensen


3/02/2020
July 2017
Hi Marcus and Ingela,
Now we are back home in England, we wanted to write and let you know what a good time we had on our self-guided Kayak tour with your company.
We appreciated the warm welcome, the personal attention you provided and for picking us up and collecting us.
We were fortunate that the weather was good which gave us the chance to see so much and find some beautiful locations. We enjoyed the wild camping too, even when the horses on Lokholmen were a bit too friendly! (see photo). The kayaking was about right for us, often easy, sometimes a bit challenging, but with many great locations to stop for lunch, camp or just drift a bit.
It was a very memorable trip for both of us, and we would certainly recommend it and yourselves to others wanting to try something different and have an adventure.
We wish you much success in the future.
Kind Regards
Tony & Sandra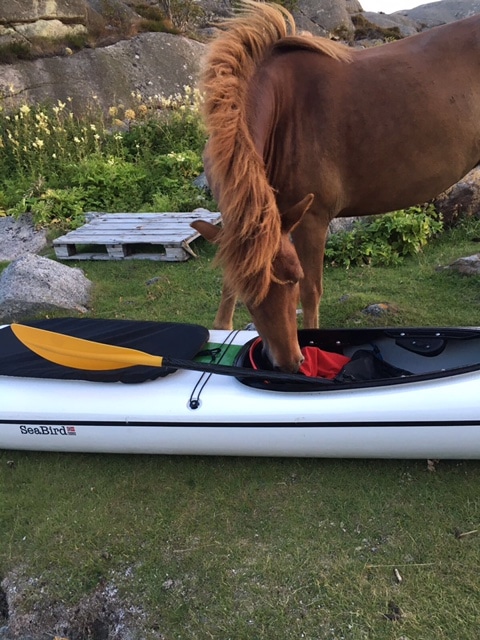 August 2015
Thank you very much for some unbelievable experience during the kayak training and the preparation and remote support during our 5 days kayak trip in August 2015.
Having been kayaking numerous times before your Basic safety training was one of my personal highlights and your motivating style to get also our daughter to try the more difficult maneuvers was incomparable. The quick course was giving us a nice extra input to improve our paddling style and has saved energy on our trip a lot.
For all who are new to Skärgårdsidyllen: The friendly welcome, the equipment and the support which you get by Marcus (and Ingela) is outstanding. The fleet of boats might still be small but all equipment is in very good shape and you will never be left with heavy paddles or get untidy boats for your trip. You will feel being treated as a friend much more than as a customer. We received information for our trip, good advices on lodging and even help to get reservations in one of the good fish restaurants where most locals go to. If you want to have some extra fun we can recommend the kayaks made of carbon – gliding superbly and saving you a lot of extra weight to lift when you need to get your equipment on the shore.
The scenery going south from Grebbestad is extremely nice, packed with small and large islands (a GPS may help you to navigate through) and offers a lot for a multiple day tour. The sea was easy to paddle but that might be different if you meet just rain and strong winds all days over.
Marcus's SMS information on the latest wind and weather forecast on every evening was very welcome. We finally had just sun and calm weather with the exception of fighting upwind on our last day – giving us the extra shot of adrenalin to return safely.
A place and people which we will not forget and if we get a chance to return – there is no other place we would go the stay with and rent kayaks.
Thank you very much to Marcus and Inga.
Falk, Marion and Cristina
July 2015
Tack för fantastiska dagar i skärgården! Vi är glada att vi tog en tältnatt. Det blev på Stora Klövskär. Det var så stilla och bedårande vackert.
Skickar med ett foto som ni gärna får dela på er facebooksida.
Här kommer också en utvärdering:
Tältet var mycket lättanvänt och praktiskt. Vi kan tänka oss att köpa just den modellen.
Vänliga hälsningar
Helena & Tobias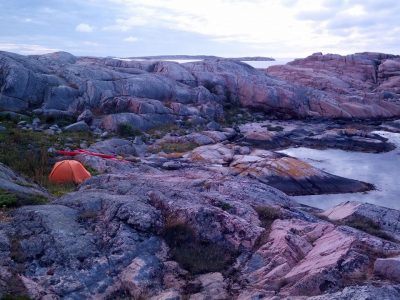 Augusti 2014
Jag och min bror hyrde kajaker av er 3 dagar och startade det hela med en intropaddling då vi inte tidigare hade paddlat havskajak.
Både introduktionen och all service vi fick kunde inte har förberett oss bättre. Hade en riktigt bra tur och kommer definitivt göra det igen.
Bifogat är en bild från en av våra övernattningsställen. Denna gången var det Hamburgeö.
Tack än en gång för bra service!

Hälsningar

Sofie Wernersson