Hiking Weekend West Sweden
Welcome to West Sweden more specifically our popular hiking trail named, Bohusleden. Live in our Ocean view cottage and enjoy having the ocean as your neighbor in the quiet fishing village of Grönemad, Grebbestad, between Gothenburg and Oslo. Once you have checked into the cottage a dinner of local seasonal food is prepared for you. After breakfast the following day we find a suitable track that you can hike depending on your preference and condition, with or without a guide as you please. 
We recommend that you bring suitable outdoor clothes, wind breaker, layer-on-layer and good steady shoes. It is also a good idea to bring your camera since you will pass many nice views along the trail.  We will provide you with a food pack and  traditional "Swedish fika"  (coffe/tea and cake) that you can enjoy during the day. The key for a successful day is a full stomach.
If you choose to hike without a guide you will find useful information to help you plan your hike here. If you choose the guided tour you can lean back and enjoy the guide taking care of you sharing stories and sweet spots along the day. Our goal with the day is that you should feel safe and have a good time.
After a full day of hiking we will return to the Ocean view cottage where dinner will be served. After dinner you can enjoy the outdoor hot tub or just relax and enjoy the magnificent view. This genuine guesthouse is made for relaxation and to enjoy, experience the nature and the archipelago. Just around the corner you can enjoy the walking on granite rocks and see traces from the stone masonry. The house is situated within walking distance from the ocean, on clear days you can spot the Weather islands which is the most western you can get in Sweden. The genuine and charming house offer an open planned kitchen, dining and living room area with a fireplace, a master bedroom, a lofts and a berth with a junior bunk bed. The kitchen is fully equipped with everything from kettle to waffle iron. On grey, chilly days you light the fireplace and enjoy each others company. You will find more information and photos of the guesthouse here!
The following morning we offer you a fresh breakfast and time to pack your bags before we head off for the final half day hike along Tjurpannan nature reserve.
This is included in the price
The price includes 2 nights full board for minimum 2 guests in the Ocean view cottage including linen and towels during September until June and transport to/from hiking trails. The price also includes 2 breakfasts, 2 lunch/picnic and 2 dinners – mostly ecologically and locally produced in season. We recommend arriving on Friday so that you get a fresh start hiking on Saturday after breakfast. It is also possible to book weekdays at a reduced rate.
Extras
SPA & Sauna – access to day spa with hot and cold bath and different saunas
Sauna & cold bath – access to our traditional sauna on the pier with access to cold bath
Outdoor bath tub – access to our wood heated hot tub
Cold bath – free of charge in the ocean all year around
Besides the hiking we also offer kayaks, paddle boards and yoga. Just let us know what you would like to experience and we would be happy to help you or point you in the right direction. Below is prices of packages that includes full board accommodation, hikes and guides. We can also customize your stay and provide you with an tailor made offer according to your needs.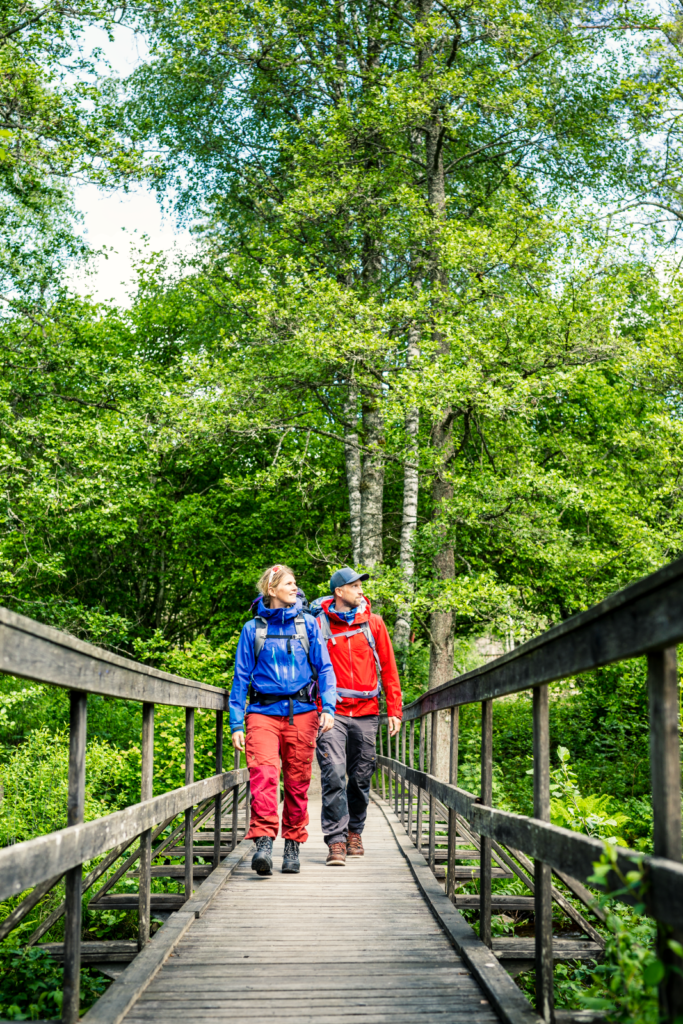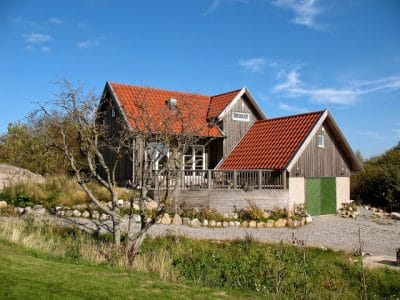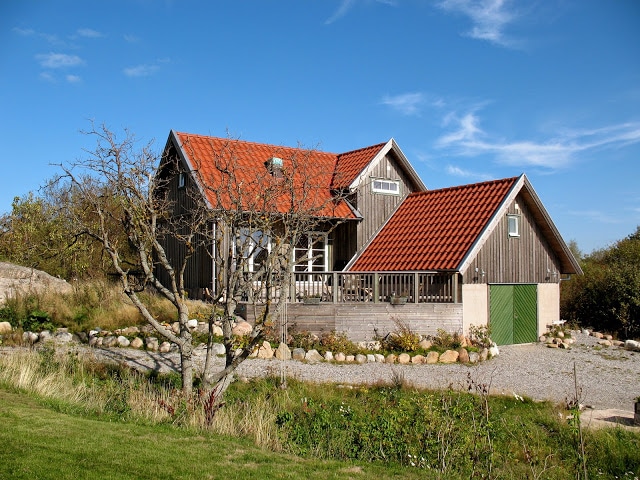 Option 1
Self guided hike in the archipelago or Bohusleden – 4 995 sek/person
Choose between a self guided Island Hike or a self guided hike along the Bohusleden trail section 26 or section 27.  Combine this with a half day hike along the coast at the popular nature reserved of Tjurpannan or Veddö which is close by the cottage.
Island Hiking 
Experience and explore the archipelago by foot. We have a boat that takes you out into a maze of islands and sherries. We drop you off on a island of  your choice. A popular island for hiking is the natur reserve Otterön where you will find nice beaches, historical and cultural remains, walking paths, unique animals and plants. If you are lucky you can spot a mouflon sheep. We will provide you with a map, a picnic and agree on a time suitable for pickup and return to the mainland. Now you can wander off and explore and experience the island on your own.
Self guided hike on Bohusleden trail
Hiking and walking is good in all seasons and for all ages. Bohusleden offer 27 trail sections, a total of 340 kilometers of scenic and varied hiking through wild and beautiful scenery. Our favorite trails are trail section 26 with a viewing point 222 meter above water and trail section 27 with a 46 meter high waterfall on the border between Sweden and Norway to name a few.
Food, accommodation and transport to and from hiking paths is included in the price, scroll down to the end of page for more information and booking form. If you want an extra Corona friendly alternative, follow the guide in your own car.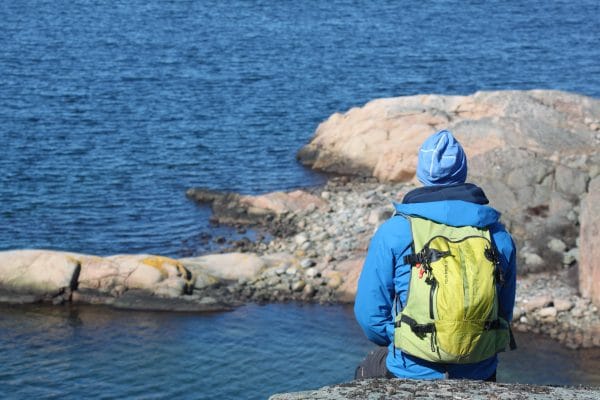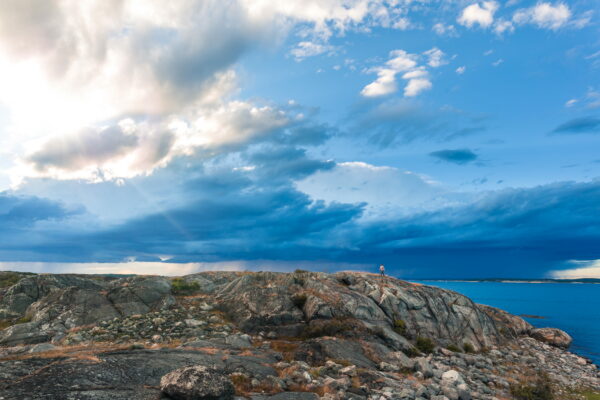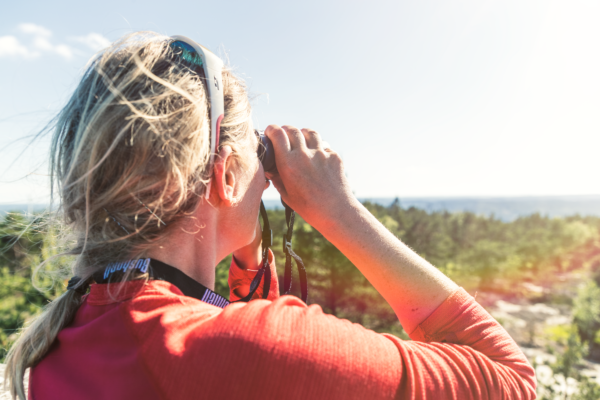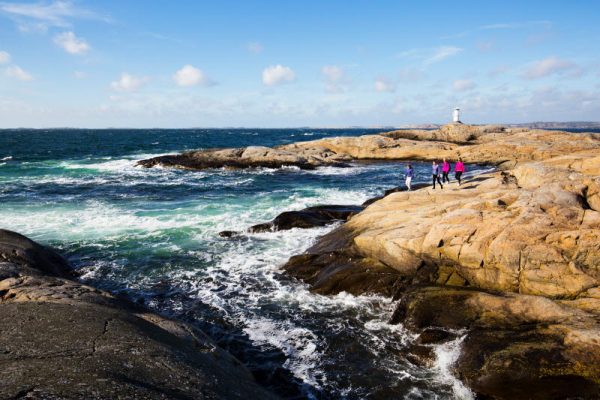 Option 2.
The guide's choice – Three short, sweet & salty seaside walks in two days – 6 500 sek/ person
Three guided half day walks by the ocean, aprox 1-3 hours each and enjoy lunch at our favorite local restaurant which is presented in the prestigious White Guide.
Follow our local guides that will show you their sweet spots in our beautiful area. In two days you will discover two nature reserves located by the ocean, Tjurpannan and Veddö, as well as our secret favorite hike in the picturesque fishing village Havstenssund.
An easy, accessible alternative for all of you that enjoy hikes in a comfortable pace and everyone that is new to hiking. It also places lower demands on the equipment.
Food, accommodation and transport to and from hiking paths is included in the price, scroll down to the end of page for more information and booking form. If you want an extra Corona friendly alternative, follow the guide in your own car.

Option 3.
Hike, yoga and kayak – 7 500 sek/ person
The package included two half day hikes, two yoga sessions and a guided archipelago tour plus ackommodation in a private cabin with oceanview and multiple terraces so you can follow the sun or make a fire in the open fire place on a cloudy day. Food and accomodation is included as described above.
Join our local guides Ingela & Marcus that will share their sweetspots, stories and local history and culture of the area. During two days you will get a taste of the oceanlife. We will kayak over wild oyester banks, hike through granite rocks and explore the southern part of Koster Marine National park.
The two yoga classes fokus on physical activity in combination of breathing and precence. The exercises is adjusted to your needs, previous experience and if you have any conditions that needs to be taken into consideration. Please feel free to bring your own yoga mat and let us know if you wish to borrow or buy one of us at site.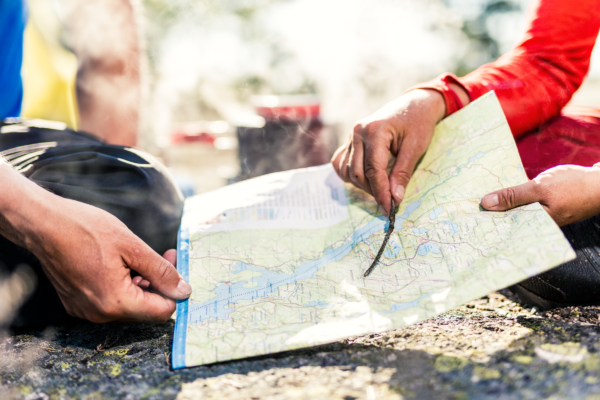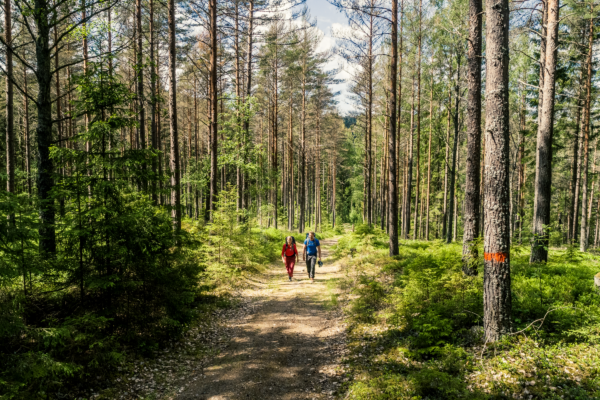 Option 4.
Walk the trail of Bohusleden with a local guide – A hiking intro tour – 7 500 sek/person
Full day guided hike on the trail of Bohusleden section 26 or section 27 and half day hike at Tjurpannan nature reserve including coffee and outdoor cooking.
Forest and ocean in enjoyable combination. Join our local guides on a memorable hiking with stops at our favorite places along the way. Cook over an open fire, enjoy the tranquility, animals and nature.
Based on your own level of knowledge, you get in an unpretentious way, the opportunity to learn the basics when it comes to hiking in the woods and on land – how to think when planning, get an overview of how to use a map & compass, how to make up an open fire and make some outdoor cooking in the open air, get an insight of the public right to access 'Allemansrätten' and other useful tips and tricks including a packing list for your upcoming hiking weekend. Just tell us if you also want to practice setting up a tent.
This trip is for you who want's to take the step from walking to hiking. We do not climb mountains, but you will feel in your body after a full day with the backpack on your back, that you have put a lot of meters behind you.
Food, accommodation and transport to and from hiking paths is included in the price, scroll down to the end of page for more information and booking form. If you want an extra Corona friendly alternative, follow the guide in your own car.