Hiking Weekend West Sweden
Welcome to West Sweden more specifically our popular hiking trail named, Bohusleden. Live in our Ocean view cottage and enjoy having the ocean as your neighbor in the quiet fishing village of Grönemad, Grebbestad, between Gothenburg and Oslo. Once you have checked into the cottage a dinner of local seasonal food is prepared for you. After breakfast the following day we find a suitable track that you can hike depending on your preference and condition, with or without a guide as you please. 
We recommend that you bring suitable outdoor clothes, wind breaker, layer-on-layer and good steady shoes. It is also a good idea to bring your camera since you will pass many nice views along the trail.  We will provide you with a food pack and  traditional "Swedish fika"  (coffe/tea and cake) that you can enjoy during the day. The key for a successful day is a full stomach.
If you choose to hike without a guide you will find useful information to help you plan your hike here. If you choose the guided tour you can lean back and enjoy the guide taking care of you sharing stories and sweet spots along the day. Our goal with the day is that you should feel safe and have a good time.
After a full day of hiking we will return to the Ocean view cottage where dinner will be served. After dinner you can enjoy the outdoor hot tub or just relax and enjoy the magnificent view. This genuine guesthouse is made for relaxation and to enjoy, experience the nature and the archipelago. Just around the corner you can enjoy the walking on granite rocks and see traces from the stone masonry. The house is situated within walking distance from the ocean, on clear days you can spot the Weather islands which is the most western you can get in Sweden. The genuine and charming house offer an open planned kitchen, dining and living room area with a fireplace, a master bedroom, a lofts and a berth with a junior bunk bed. The kitchen is fully equipped with everything from kettle to waffle iron. On grey, chilly days you light the fireplace and enjoy each others company. You will find more information and photos of the guesthouse here!
The following morning we offer you a fresh breakfast and time to pack your bags before we head of for the final half day hike along Tjurpannan nature reserve.
Besides the hiking we also offer kayaks, paddle boards and yoga. Just let us know what you would like to experience and we would be happy to help you or point you in the right direction. Below is prices of packages that includes full board accommodation, hikes and guides. We can also customize your stay and provide you with an tailor made offer according to your needs.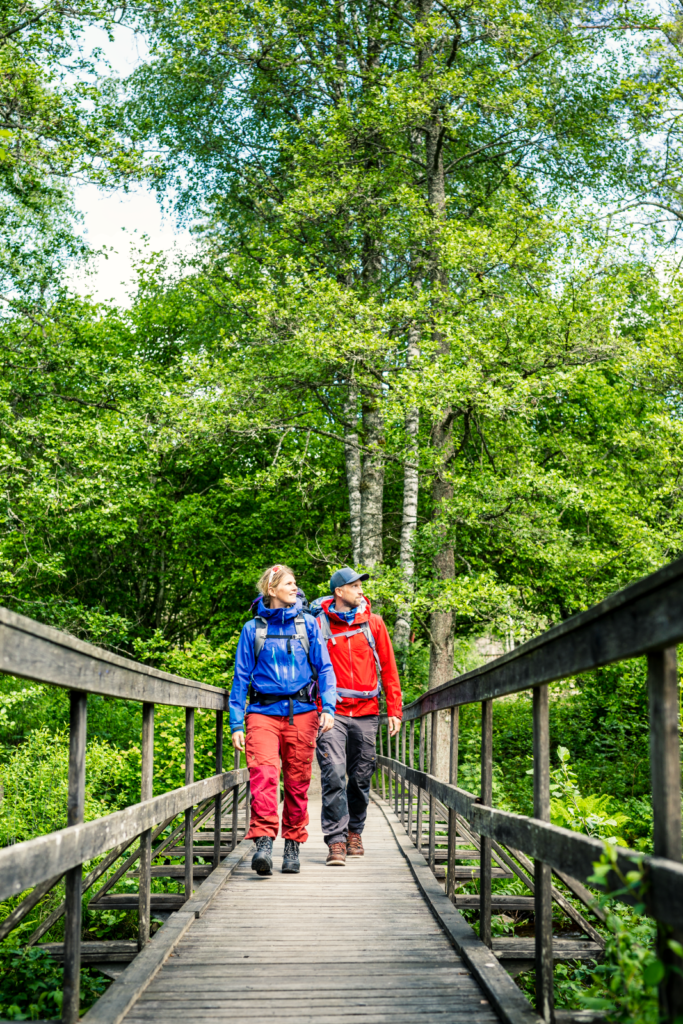 Price
Wintertime, silent and calm
The price includes 2 nights full board for minimum 2 guests in the Ocean view cottage including linen and towels during September until June and transport to/from hiking trails. The price also includes 2 breakfasts, 2 lunch/picnic and 2 dinners – mostly ecologically and locally produced in season. We recommend arriving on Friday so that you get a fresh start hiking on Saturday after breakfast. It is also possible to book weekdays at a reduced rate.
Option A – 4995 sek/person
Hike without guide on Bohusleden trail 26 or traili 27 plus half hay hike on the nature reserve Tjurpannan on the last day
Option B – 5995 sek/person
Three guided half day tours along the coast including lunch at one of our favorite restaurants
Option C  – 6995 sek/person
Guided full day tour along Bohusleden trail 26 or traili 27 plus half hay hike on the nature reserve Tjurpannan on the last day with outdoor meals
Summertime when the sun doesn't want to set
During the summer we only let our guesthouse minimum 7 days but we cooperate with a range of hotels, hostels, B&B and campsites so contact us and we would be happy to help to set up a package of your next adventure.